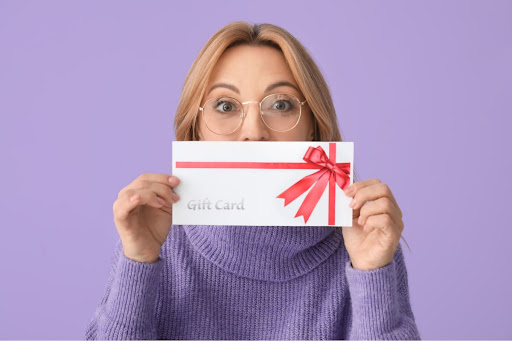 Gift-giving is a universal practice that transcends cultural boundaries. In South Korea, gift cards have gained immense popularity as a modern and convenient alternative to traditional gift-giving. Korea offers a wide array of gift card options, catering to various interests and occasions.
In this post, we will delve into the various types of gift cards available in Korea, exploring their unique features and shedding light on the diverse options for both givers and receivers.
Retailer Gift Cards
Retailer gift cards in Korea, offer recipients the opportunity to explore a specific store's wide range of products and services. These gift cards are typically associated with well-known retailers and brands, providing a seamless gifting experience. For example, Lotte Department Store, one of the largest retail chains in Korea, offers gift cards that can be redeemed for fashion items, cosmetics, home appliances, and more. This allows the recipient to choose something they truly desire, ensuring their satisfaction with the gift.
Another prominent example is the gift card from E-Mart, a leading hypermarket chain in Korea. Their gift cards can be utilized to purchase groceries, household items, electronics, and even clothing. With E-Mart's extensive selection, recipients have the flexibility to fulfill their specific needs or indulge in a shopping spree of their choice.
Furthermore, popular online marketplaces like Gmarket and Coupang offer their own gift cards, granting recipients access to a vast array of products from various categories such as fashion, beauty, electronics, and lifestyle. These gift cards allow individuals to explore a multitude of options within the comfort of their own homes, making them particularly appealing in today's digital age.
Restaurant and Cafe Gift Cards
In Korea, restaurant and cafe gift cards are a delightful way to treat loved ones to a memorable dining experience. These gift cards provide recipients with the opportunity to indulge in delectable cuisines or savor specialty beverages at their favorite eateries. For instance, popular restaurant chains like Korean BBQ restaurant, Outback Steakhouse, and VIPS offer gift cards that can be redeemed for a delightful dining experience. Recipients can relish a wide range of dishes, from succulent grilled meats to international flavors, ensuring a memorable meal.
Cafe gift cards are equally cherished, allowing recipients to enjoy cozy atmospheres and flavorful beverages. Major coffee chains such as Starbucks, Ediya Coffee, and Hollys Coffee offer gift cards that can be used to enjoy a variety of coffees, teas, and snacks. Whether it's sipping on a rich espresso, indulging in a frothy cappuccino, or savoring a freshly baked treat, cafe gift cards provide a delightful escape for coffee and tea enthusiasts.
Moreover, themed cafes have also joined the gift card trend in Korea. For example, cat cafes, where patrons can enjoy the company of furry feline friends, offer gift cards that allow recipients to experience the unique charm of these establishments. These gift cards provide a memorable opportunity for animal lovers to unwind and connect with adorable cats while enjoying a cup of coffee or tea.
Entertainment and Leisure Gift Cards
Entertainment and leisure gift cards allow people the chance to immerse themselves in a variety of enjoyable activities. These gift cards provide access to a wide range of entertainment options, ensuring recipients can find something that suits their interests and preferences. For instance, major cinema chains like CGV and Lotte Cinema offer gift cards that can be used to enjoy the latest movies on the big screen. Recipients can experience the thrill of blockbuster films or immerse themselves in captivating storytelling, making it a perfect gift for movie enthusiasts.
Theme parks are also popular destinations for entertainment and leisure gift cards. Everland, one of Korea's largest and most renowned theme parks, offers gift cards that grant recipients entry to thrilling rides, enchanting shows, and a world of fun and adventure. Whether it's experiencing the exhilaration of roller coasters or exploring themed areas, these gift cards provide the opportunity for unforgettable experiences.
In addition to cinemas and theme parks, there are gift cards available for various leisure activities. For example, outdoor adventure parks like Vivaldi Park offer gift cards that allow recipients to enjoy activities such as skiing, snowboarding, and water sports. These gift cards provide a fantastic opportunity for recipients to embark on thrilling adventures and create lasting memories.
Online and Mobile Gift Cards
With the rise of e-commerce and digital platforms, online and mobile gift cards are gaining the stage in Korea. These gift cards allow users to make purchases or enjoy services through online channels, offering convenience and instant gratification. Several well-known online retailers and platforms offer gift cards that cater to various needs and interests.
One prominent example is the Gmarket gift card. Gmarket, one of Korea's largest online marketplaces, allows recipients to explore a wide range of products across categories such as fashion, beauty, electronics, and home goods. With a Gmarket gift card, recipients can indulge in online shopping, choosing from numerous options available at their fingertips.
Additionally, Coupang, another leading e-commerce platform in Korea, offers its own gift cards. Recipients can use these gift cards to browse and purchase items ranging from everyday essentials to luxury goods. The convenience of Coupang's extensive online marketplace makes these gift cards a desirable choice for those seeking a versatile gifting option.
Mobile gift cards are also well-known in Korea, aligning with the increasing reliance on smartphones and mobile apps for daily activities. For instance, T-money, a widely used transportation card, offers mobile gift cards that can be used for public transportation fares, including buses, subways, and taxis. These mobile gift cards provide recipients with the convenience of seamless travel experiences, making commuting hassle-free.
Multi-Purpose and Prepaid Gift Cards
Multi-purpose and prepaid gift cards in Korea allow you to choose from a wide range of options, making them a versatile and convenient choice for gift-givers. These gift cards can be used at multiple retailers or establishments, providing recipients with the flexibility to select their preferred products or services. In essence, they offer the best of both worlds by combining the convenience of a gift card with the freedom of choice.
One example of a multi-purpose gift card is the Korea Prepaid Card, also known as "Korea Gift Card." This card can be used at a variety of participating retailers, including department stores, supermarkets, restaurants, cafes, and more. Recipients can enjoy the flexibility of selecting from a diverse range of options, making it an ideal gift for those who appreciate choice and variety.
Another popular multi-purpose gift card in Korea is the Happy Point Card. This card is widely accepted across various industries, including retail, dining, entertainment, and even transportation. Recipients can accumulate and redeem Happy Points, which can be used for discounts or rewards at participating establishments. This multi-purpose card provides recipients with the opportunity to personalize their experiences and reap the benefits of loyalty programs.
Prepaid gift cards are another form of versatile gifting option. One well-known example is the Payco card, which can be used for online and offline purchases at a range of partner merchants. Payco offers convenience and flexibility, allowing recipients to conveniently shop for their desired items or services, all while enjoying the benefits of a prepaid card.
Cultural and Experience Gift Cards
Cultural and experience gift cards in Korea offer recipients the opportunity to engage in unique and immersive activities that celebrate the country's rich cultural heritage. These gift cards provide access to a wide range of cultural experiences and attractions, allowing recipients to delve into the vibrant traditions and history of Korea.
One example of a cultural gift card is the Korea Cultural Heritage Foundation's gift card. With this card, recipients can visit and explore various cultural heritage sites, such as palaces, temples, and traditional villages. They can immerse themselves in the beauty of Korean architecture, art, and customs, experiencing firsthand the rich cultural tapestry of the country.
Another popular choice is the NANTA Theater gift card. NANTA is a high-energy non-verbal performance that combines comedy, music, and acrobatics with traditional Korean rhythms. The gift card grants recipients entry to this exciting show, where they can enjoy a captivating blend of entertainment and Korean culture.
Additionally, there are experience gift cards that offer unique activities and adventures. For instance, a Hanbok rental gift card allows recipients to don traditional Korean attire and explore the city while embracing the beauty of traditional Korean fashion. This experience provides a memorable way to appreciate and engage with Korean culture.
Custom and Personalized Gift Cards
Custom and personalized gift cards in Korea provide a special touch by allowing givers to create unique and tailored gifts for their loved ones. These gift cards can be customized with personalized messages, photos, or designs, making them a heartfelt and memorable gesture.
One example of a custom gift card is the Starbucks Personalized Gift Card. Customers can choose from a selection of designs or even upload their own photos to create a personalized card. This allows givers to add a personal touch and make the gift card truly unique for the recipient. Whether it's a cherished memory, a favorite quote, or a special message, the personalized Starbucks gift card adds a meaningful touch to the gift-giving experience.
Similarly, online platforms like Gifticon offer personalized digital gift cards that can be customized with various designs, messages, and even animations. Givers can choose from a wide range of templates and add their personal touch to create a one-of-a-kind gift card. The recipient can then redeem the digital gift card for various products or services available on the platform.
Where to Buy Giftcards in Korea
If you're looking to purchase gift cards in Korea, there are various places where you can find a wide selection to suit your gifting need:
Retail Stores
Many major retailers in Korea offer a diverse range of gift cards that cater to different interests and occasions. Popular department stores like Lotte and Shinsegae have dedicated gift card sections where you can find retailer gift cards, entertainment gift cards, and more.
Convenience Stores
Convenience stores like GS25, CU, and 7-Eleven often have a selection of gift cards available for purchase. These stores provide a convenient option for buying gift cards on the go, making it easy to grab one while running errands or during your daily commute.
Online Platforms
Korea's thriving e-commerce scene offers a plethora of online platforms where you can purchase gift cards. Websites like Gifticon, Tmon, and Coupang provide a wide variety of gift card options, ranging from retail and restaurant gift cards to cultural experiences and more.
Specialty Stores
For specific types of gift cards, you can explore specialty stores. Bookstores like Kyobo Book Centre and Yes24 offer book vouchers or e-book gift cards, while coffee shops like Starbucks have their own gift card programs available for purchase in-store or online.
Gift Card Vending Machines
In some locations, you may come across gift card vending machines. These machines allow you to select and purchase gift cards directly, providing a quick and convenient option for acquiring gift cards on the spot.
Other Online Gift card Retailers
In addition to well-established online platforms, there are numerous other online gift card retailers offering unique features and benefits. SnappyExchange, a widely known platform in Nigeria and Ghana, stands out as a trusted marketplace specializing in buying and selling gift cards. With referral bonuses and a diverse range of options from popular retailers, SnappyExchange provides users with a convenient and secure experience.
One of the key advantages of SnappyExchange is its extensive selection of gift cards, including international brands, catering to various categories such as retail, entertainment, and online services. The platform's user-friendly interface ensures a seamless browsing experience, complemented by efficient customer service that promptly addresses any inquiries or issues. SnappyExchange offers a reliable and hassle-free solution for those seeking to engage in gift card transactions, providing convenience and accessibility to users in Nigeria, Ghana, and beyond.

Conclusion
Gift cards in Korea offer convenience and flexibility for givers and receivers. From retailer and restaurant gift cards to entertainment and online options, there are choices for every occasion. For those in Nigeria and Ghana, SnappyExchange provides a trusted platform to buy and sell gift cards with a diverse selection and reliable customer service. Explore the world of gift cards and consider SnappyExchange for all your gifting needs. Start today and make every gift special!