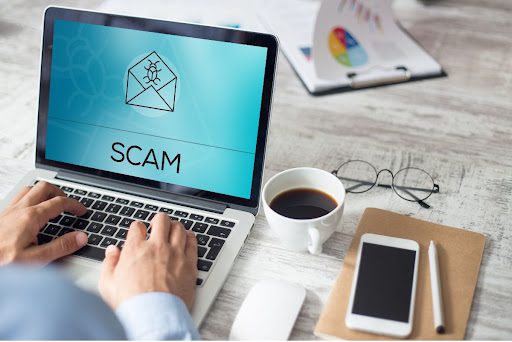 Cryptocurrencies are no longer news, attracting investors and enthusiasts from all around the world. With this surge in interest, it's crucial to be aware of the potential risks and pitfalls associated with the crypto space. One significant concern is the prevalence of crypto scams that aim to deceive and defraud unsuspecting individuals.
Whether you're a seasoned investor or a crypto novice, understanding the various types of crypto scams is essential for safeguarding your digital assets. In this post, we'll explore different types of crypto scams, how they operate, and the steps you can take to protect yourself.
1. Ponzi Schemes
Ponzi schemes have long been a notorious form of fraud, and unfortunately, they have found their way into the world of cryptocurrencies. These schemes operate by promising high returns on investments, often with minimal risk. However, instead of generating profits through legitimate means, Ponzi schemes rely on new investors' funds to pay returns to earlier investors. The cycle continues until the scheme collapses, leaving many victims with substantial financial losses.
In the crypto space, Ponzi schemes typically masquerade as legitimate investment opportunities or platforms offering guaranteed returns. They often use enticing marketing tactics, promising unrealistically high profits in a short period. These schemes prey on individuals who are eager to capitalize on the booming crypto market but lack the knowledge or experience to distinguish between genuine investments and scams.
To identify a potential Ponzi scheme, there are several warning signs to watch out for. Firstly, be skeptical of investment opportunities that guarantee high, consistent returns, especially if they claim to be risk-free. Legitimate investments always carry some level of risk. Secondly, if the investment relies heavily on recruiting new investors and offers referral bonuses or incentives, it may be indicative of a Ponzi scheme. Additionally, lack of transparency, vague or complex investment strategies, and pressure to invest quickly without providing sufficient time for due diligence are all red flags.
One well-known example of a crypto Ponzi scheme is the case of Bitconnect. Bitconnect promised extravagant returns through a lending and trading platform but ultimately turned out to be a fraudulent scheme. The platform collapsed in 2018, causing investors to lose substantial amounts of money. This incident serves as a stark reminder of the risks associated with Ponzi schemes in the crypto world.
To protect yourself from falling victim to a Ponzi scheme, it's vital to conduct thorough research before investing in any opportunity. Verify the legitimacy of the company or platform by checking if they are registered, regulated, and have a credible track record. Seek independent opinions from trusted sources and be cautious of relying solely on testimonials or endorsements within the crypto community, as these can also be manipulated.
Phishing Attacks
Phishing attacks are a prevalent form of cybercrime that extends beyond traditional email scams and has made its way into the crypto world. These attacks aim to deceive individuals into revealing their sensitive information, such as passwords, private keys, or wallet credentials, by impersonating legitimate entities or platforms.
In the context of cryptocurrencies, phishing attacks can occur through various channels, including email, social media, messaging apps, and even fake websites. Scammers often employ clever tactics to gain the trust of their victims and trick them into divulging their valuable data.
One common technique used in crypto phishing attacks is sending emails or messages that appear to come from well-known exchanges or wallets. These messages typically inform the recipient of a security issue or a need for immediate action, such as verifying their account or updating their password.
The email or message will provide a link that directs the user to a fake website designed to mimic the legitimate platform. Once users enter their login credentials or private keys on these malicious sites, the scammers gain access to their accounts and can steal their funds.
To identify and avoid falling victim to phishing attacks, it's important to be vigilant and follow these essential tips:
1. Verify the sender
Carefully inspect the sender's email address or social media profile to ensure it matches the official contact information of the legitimate entity. Be wary of minor discrepancies or misspellings that may indicate a fraudulent attempt.
2. Avoid clicking on suspicious links
Be cautious of unsolicited emails or messages containing links, especially if they prompt you to take immediate action. Instead of clicking directly on the provided link, manually type the URL of the website into your browser or use a bookmarked link.
3. Double-check website security
Before entering any sensitive information, ensure that the website you're accessing has a secure connection. Look for the padlock icon in the address bar and ensure the URL begins with "https://" rather than "http://". This indicates that the website has a valid SSL certificate and encrypts your data during transmission.
4. Enable two-factor authentication (2FA)
Implementing 2FA adds an extra layer of security to your accounts by requiring a secondary verification step, such as a unique code sent to your mobile device. This can significantly reduce the risk of unauthorized access, even if scammers manage to obtain your login credentials.
5. Stay informed and updated
Regularly educate yourself about the latest phishing techniques and trends. Follow official announcements from reputable crypto platforms to be aware of any reported phishing attempts or security advisories.
Fake Exchanges and Wallets
The rise in popularity of cryptocurrencies has led to the emergence of numerous crypto exchanges and wallets. While most of these platforms operate legitimately, there are also fake exchanges and wallets that aim to deceive users and steal their funds. Understanding how scammers create these fraudulent platforms and how to identify them is crucial for safeguarding your digital assets.
Scammers employ various tactics to create fake exchanges and wallets that closely resemble legitimate ones. They often utilize clever website designs, similar domain names, and even fake customer reviews to appear trustworthy. These fraudulent platforms typically entice users with enticing features, such as low transaction fees or exclusive offers, to lure them into depositing their cryptocurrencies.
To identify a fake exchange or wallet and protect yourself from falling victim to such scams, consider the following:
1. Conduct thorough research
Before using any crypto exchange or wallet, take the time to research its reputation and background. Look for reviews and feedback from other users, check if the platform is properly registered and regulated, and verify its security measures and user protection policies.
2. Check the domain name
Scammers often create domain names that closely resemble popular exchanges or wallets. Carefully scrutinize the URL to ensure it matches the official website. Watch out for slight misspellings, additional characters, or variations that may indicate a fraudulent site.
3. Examine the website security
Genuine crypto exchanges and wallets prioritize security. Check if the website has a valid SSL certificate by looking for the padlock icon in the address bar and confirming that the URL starts with "https://". Avoid entering sensitive information on websites without proper encryption.
4. Verify customer support channels
Legitimate platforms typically provide reliable customer support. Look for multiple contact options, such as email, live chat, or phone support. Try reaching out to customer support with questions or concerns to assess their responsiveness and professionalism.
5. Be cautious of unsolicited offers
Beware of unsolicited emails, messages, or advertisements promoting exclusive deals or bonuses. Scammers often use these tactics to entice users into using their fake platforms. Legitimate exchanges and wallets typically do not reach out to users directly with such offers.
6. Trust your instincts
If something feels off or too good to be true, trust your gut instincts. If a platform's features, offerings, or promises seem unrealistic or too generous, it may be a red flag indicating a fraudulent operation.
Remember that reputable exchanges and wallets prioritize the security of user funds and employ robust security measures. When in doubt, it is always safer to opt for well-known platforms that have established their credibility in the crypto community. Additionally, consider seeking recommendations from trusted sources or seeking advice from experienced crypto enthusiasts to avoid falling victim to fake exchanges or wallets.
Initial Coin Offering (ICO) Scams
Initial Coin Offerings (ICOs) have been a popular fundraising method in the crypto space, allowing startups and projects to raise funds by issuing tokens to investors. While legitimate ICOs have facilitated the growth of innovative projects, there have also been instances of fraudulent ICOs aimed at deceiving investors and making off with their funds. Understanding how ICO scams operate and being able to identify red flags is essential for protecting yourself from such fraudulent activities.
ICO scams typically involve scammers launching fake projects or misrepresenting existing ones to attract investors. These scams may come in different forms, but they often share similar characteristics. By exercising due diligence, conducting thorough research, and being cautious of red flags, you can significantly reduce the risk of falling victim to ICO scams. Remember, legitimate projects focus on transparency, credible teams, realistic goals, and compliance with regulations. Stay informed, trust your instincts, and seek advice from trusted sources to navigate the ICO landscape safely.
Pump and Dump Schemes
Pump and dump schemes are a form of market manipulation that can occur in the crypto space, exploiting the volatile nature of cryptocurrencies for the benefit of scammers at the expense of unsuspecting investors. These schemes involve artificially inflating the price of a particular cryptocurrency through false or exaggerated positive information, then swiftly selling off the inflated holdings to make substantial profits, leaving other investors with significant losses.
The process of a pump and dump scheme typically unfolds in several stages. Firstly, the scammers identify a low-volume and low-priced cryptocurrency with limited liquidity. They accumulate a large number of these tokens at low prices, often under the radar. Next, they initiate the pump phase by spreading positive rumors or creating hype around the targeted cryptocurrency. This can be done through various channels, including social media, forums, and messaging platforms, with the intention of attracting a surge of new investors.
As the demand for the cryptocurrency increases, the price begins to rise rapidly. This upward momentum attracts more investors who are enticed by the prospect of quick profits. However, what these investors do not realize is that the price is artificially manipulated, and the scammers are preparing for the dump phase. At a predetermined point, the scammers swiftly sell off their holdings, flooding the market and causing the price to plummet. This leaves the unsuspecting investors with devalued assets and significant financial losses.
Pump-and-dump schemes exploit the speculative nature of cryptocurrencies and can result in significant financial losses for unsuspecting investors. By staying informed, conducting research, and exercising caution, you can minimize the risk of falling victim to these manipulative schemes and make more informed investment decisions.
Malware and Ransomware Attacks
Malware and ransomware attacks pose a significant threat to individuals and organizations operating in the crypto space. These malicious software programs are designed to infiltrate systems, compromise sensitive information, and extort victims for financial gain. Understanding how these attacks occur and implementing robust security measures is crucial for safeguarding your digital assets and personal information.
1. Malware Attacks
Malware, short for malicious software, encompasses a wide range of programs that can infect computers and devices, often without the user's knowledge. Here are some common types of malware attacks in the context of cryptocurrencies:
Keyloggers: Keylogger malware records keystrokes, allowing attackers to capture passwords, private keys, and other sensitive information.
Trojan horses: Trojan horse malware disguises itself as legitimate software or files but contains hidden malicious components. These can compromise security measures and grant unauthorized access to your system.
Cryptojacking: Cryptojacking malware secretly hijacks your device's processing power to mine cryptocurrencies without your consent, potentially slowing down your system and increasing energy consumption.
To protect against malware attacks:
Install reputable antivirus software and keep it up to date.
Regularly scan your devices for malware and promptly remove any detected threats.
Exercise caution when downloading files or clicking on links from untrusted sources, as they may contain malware.
Enable automatic software updates to ensure your operating system and applications are patched with the latest security fixes.
2. Ransomware Attacks
Ransomware is a type of malware that encrypts your files or locks you out of your system until a ransom is paid to the attackers. These attacks can have devastating consequences if valuable data or access to crypto wallets is compromised. Here's how to protect yourself against ransomware:
Regularly back up your important files and store them securely offline or in cloud storage.
Be cautious when opening email attachments or downloading files from untrusted sources, as these can be vectors for ransomware.
Keep your operating system, software, and security patches up to date to address vulnerabilities that ransomware may exploit.
Use strong, unique passwords for your crypto wallets and enable two-factor authentication (2FA) for an extra layer of security.
In the unfortunate event of a ransomware attack:
Disconnect infected devices from the network to prevent the spread of malware.
Report the incident to law enforcement authorities.
Seek professional help from cybersecurity experts who may be able to assist in recovering your files or mitigating the impact.
Social Engineering Scams
Social engineering scams are deceptive tactics employed by malicious individuals to manipulate and exploit human psychology rather than relying solely on technical means. These scams aim to trick individuals into revealing sensitive information, such as login credentials or personal data, or to persuade them to perform actions that benefit the scammers. In the world of cryptocurrencies, where trust and security are paramount, understanding different types of social engineering scams is crucial for safeguarding your digital assets and personal information.
1. Phishing Scams
Phishing scams are one of the most prevalent social engineering techniques used to trick individuals into revealing sensitive information. These scams typically involve fraudulent emails, messages, or websites that impersonate legitimate entities, such as crypto exchanges or wallets. The goal is to deceive users into providing their login credentials, private keys, or other confidential details. To protect yourself from phishing scams:
Be cautious of unsolicited emails or messages asking for personal information.
Verify the legitimacy of websites by checking the URL for misspellings or slight variations.
Avoid clicking on suspicious links and refrain from downloading attachments from unknown sources.
Double-check the sender's email address to ensure it matches the official contact details of the organization.
2. Impersonation Scams
Impersonation scams involve attackers pretending to be someone else, such as a crypto influencer, a customer support representative, or a trusted contact. These scammers often leverage social media platforms, forums, or messaging apps to gain trust and manipulate victims into sharing sensitive information or performing actions that benefit the scammers. Protect yourself from impersonation scams by:
Verifying the authenticity of individuals claiming to be influential figures or representatives by cross-referencing their social media profiles or official websites.
Being cautious of requests for personal information or financial transactions from unfamiliar or unexpected sources.
Authenticating communication channels with trusted contacts through secondary means, such as phone calls or face-to-face meetings, before disclosing sensitive information.
3. Pretexting
Pretexting is a social engineering technique where scammers create a fictional scenario to manipulate victims into disclosing sensitive information. This can involve impersonating a trustworthy individual or creating a compelling story to gain the victim's sympathy and cooperation. To avoid falling victim to pretexting:
Be skeptical of unsolicited requests for personal information, especially if the request seems urgent or involves emotional appeals.
Verify the identity of individuals or organizations by independently contacting them through official channels before sharing any sensitive information.
Limit the amount of personal information you share online and on social media platforms to minimize the potential for exploitation.
4. Baiting
Baiting involves enticing individuals with an appealing offer or reward to manipulate them into performing actions that benefit the scammer. In the context of cryptocurrencies, baiting scams may involve promises of free tokens, exclusive investment opportunities, or access to high-yield programs. Protect yourself from baiting scams by:
Being cautious of offers that seem too good to be true and conducting thorough research before engaging in any investment or financial activity.
Avoiding clicking on suspicious links or downloading files from unknown sources, even if they promise rewards or benefits.
Seeking information and advice from trusted sources or experienced individuals within the crypto community.
Leveraging Trading Platforms
When it comes to participating in cryptocurrency trading, it's crucial to choose a trusted and reliable trading platform. As we have discussed various types of crypto scams, using a reputable platform can significantly reduce the risk of falling victim to fraudulent activities. While there are numerous platforms available, one platform that stands out as a widely trusted and reliable option is SnappyExchange. It offers the following benefits to traders and investors:
1. Security and Trustworthiness
One of the primary benefits of leveraging platforms like SnappyExchange is the assurance of security and trustworthiness. SnappyExchange has established itself as a leading trading platform in Nigeria, with expanding reach in Ghana as well. It has gained a reputation for prioritizing the security of its users' funds and personal information. With robust security measures, such as encryption protocols, two-factor authentication, and cold storage for crypto assets, SnappyExchange ensures a secure trading environment.
2. User-Friendly Interface
Another advantage of using platforms like SnappyExchange is the user-friendly interface they offer. SnappyExchange is designed to cater to both experienced traders and beginners, providing a seamless trading experience. The platform offers intuitive navigation, clear market data, and easy-to-use tools, making it accessible to users with varying levels of expertise. Whether you are new to crypto trading or an experienced trader, SnappyExchange provides a user-friendly environment to execute trades efficiently.
3. Variety of Cryptocurrencies
SnappyExchange offers a wide range of cryptocurrencies to trade, allowing users to diversify their portfolios and explore various investment opportunities. From popular cryptocurrencies like Bitcoin (BTC) and Ethereum (ETH) to emerging altcoins, SnappyExchange provides access to a diverse selection of digital assets. This variety enables users to take advantage of market trends and tailor their trading strategies to their specific interests and goals.
4. Liquidity and Trading Volume
Liquidity is a crucial aspect of successful trading, and leveraging a platform like SnappyExchange ensures access to substantial liquidity and trading volume. SnappyExchange has built a strong user base, resulting in a vibrant trading ecosystem. This high liquidity enables users to execute trades efficiently at competitive prices and reduces the risk of encountering slippage or delays during transactions.
5. Reliable Customer Support
SnappyExchange prides itself on providing reliable customer support to its users. In the crypto world, having access to responsive and knowledgeable customer service is essential. SnappyExchange offers multiple channels of support, including email and live chat, to address user inquiries, resolve issues, and provide assistance when needed. This commitment to customer support enhances the overall trading experience and instills confidence in users.

Conclusion
In the ever-evolving world of cryptocurrencies, it is crucial to be aware of the various types of scams that can threaten the security of your digital assets. Understanding these scams and the tactics employed by fraudsters is the first step in protecting yourself and making informed investment decisions. Also, leveraging a trusted trading platform is essential for navigating the cryptocurrency landscape safely. Start your crypto trading journey today, and safeguard your investments with SnappyExchange!