A good way to knock poverty off its feet is via investment. We are currently in a digital world, where the value and demand for cryptocurrency and gift card trading are taking over that of physical currency. Do you know if you invested $2000 in Bitcoin in 2010, by now the worth will be above $285million?
A Plug For Cryptocurrency and Gift Cards Trading – Snappy Exchange
Cryptocurrency is not physical money, but a digital currency, which can be transferred, traded and used for paying bills. Bitcoin and Ethereum are well-known cryptocurrencies.
Furthermore, a large advantage, cryptocurrency has over physical money is that cryptocurrency can be traded for profit. Trading of cryptocurrency is what many take as a side hustle, and are earning massively from it, you too can join the league, and earn high from cryptocurrency. At the snappy exchange, you can successfully trade cryptocurrency, and earn high from it, and also, you can trade your gift cards, at the best rate you can ever get. Also, you can get your recharge card (Glo, MTN, Etisalat, etc) from the website.
What Is Being Done At Snappy Exchange?
Snappy exchange is into buying and selling cryptocurrency of any form. You can also trade your gift cards on the platform, at the best rate.
It should be noted that there are a lot of scam websites out there, who claim to be buying and selling cryptocurrency, and once you trade with them, you will discover you've been ripped.
Best Cryptocurrency and Gift Card Trading
Trading and investing in cryptocurrency could be quite frustrating if you don't know the right path to follow. Day by day, there is always news of people losing money and scams. However, regardless of all the scams that continue to happen, it is %100 safe to trade cryptocurrency at snappy exchanges.
What people consider most, when it comes to trading cryptocurrency or buying Bitcoin, is security and safety. Whether you intend to purchase, trade frequently, or hold a long-term agreement, the below exchanges are the best you can use.
To all cryptocurrency traders, this list shall cover the best site you can trade your digital currency.
Best Cryptocurrency Exchange 2021
Snappy Exchange
Snappy Exchange is a trusted e-currency and gift card merchant, you get instant payment, once you trade on the snappy exchange, and will never be a part of a scam. You can trade with peace of mind, and snappy exchange is duly registered with the corporate affairs commission.
Although the cryptocurrency industry is getting contaminated with fraud and scams, the snappy exchange has strongly remained steadfast, to maintain integrity and honesty in the industry.
How to trade on the snappy exchange
You can trade on the snappy exchange, and get your money in minutes, in these easy steps.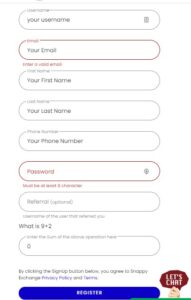 Register on the platform.
Verify your account, with your Gmail account.
You can instantly start trading on the platform, once your account has been verified.
Snappy exchange is being tagged as the best overall because the platform gives the best rate which you may not find on any platform. You get instant funding, you do not need to wait for hours before your payment will land in your account. And above all, your transaction is safe and secure.
Benefits of cryptocurrency trading.
Yeah, you might have heard a lot about cryptocurrency, however, you may not know the benefits attached to it. Also, bear in mind that cryptocurrency trading is not a get-rich-quick scheme, but the right path to make a good future.
In a clearer view, people migrating to the use of digital currency due to the following reasons.
They are a great portfolio asset
They are a useful store of value
And they can be used to make payments of goods or services online, unlike other physical investments such as gold. Cryptocurrency can be stored and transferred and can be used to make payment of goods such as

Coffee
Fast food
Basketball tickets
Airline
Taxis, etc
All can be paid for online, with your e-currency, however, in your next online transaction, can you make use of gold to make payment.
Also, here are other additional points to keep in mind concerning cryptocurrency trading.
Low minimum investment barrier: you can buy a smaller amount of cryptocurrency, which means they are divisible. This means you do not need to have a large amount before you start trading cryptocurrency.
Liquidity: you can buy, sell, and trade cryptocurrency at any time in a day, which means cryptocurrency exchange operates 24 hours.
Transparency: Blockchain, is majorly used for the recording of all cryptocurrency transactions, this is to ensure transparency and transaction.
Diversity of assets: as a trader, you can minimize or mitigate risks, by choosing any cryptocurrency that you like.
Fees: When being compared with legacy asset currency, the digital currency has the most significant lower fees.
Having learned all this, let's quickly dive into the main point.
Best Cryptocurrency To Invest In This Year
It could be exhilarating to trade bitcoin, however, it could also be a way to test your mettle. To help you get on the right lane, without making any mistake in your journey of trading digital currency, here is a rundown of the best cryptocurrency to invest in.
Uniswap ($UNI)
Uniswap is a cryptocurrency exchange that is present and runs on the ethereum blockchain. You can find a helpful introduction to the exchange of uni swap on the coin desk.
As of the moment, each token ok uni swap worth a sum of $12,000
Cardano ($ADA)
Cardano was launched in 2017 and has been a top competitor to the ethereum blockchain.
Cardano was first offered for trading in 2015, and there have been a lot of ups and downs in the currency, which is also applicable to all other currencies. However, the value of the digital currency went high to $1.49. And as of the moment, the market cap is $39.
Tron ($Tron)
Tron is another fast-rising cryptocurrency, with a constant increase in value. This currency was developed by the Tron foundation, and it's one of the popular cryptocurrencies nowadays.
The aim and objective of Tron are to make the distribution of currency easier. According to Tron official website, it's being made known that there are a lot of big companies that has partnered with Tron such as
Samsung
Swisscom
Opera
Poloniex
Bit torrent
Ripple ($XRP)
Ripple is both a digital currency and a digital payment network, for online transactions. The e-currency was released in 2012. At the moment, Ripple is one of the undervalued digital currencies in the world.
Litecoin ($LTC)
Litecoin was created by an ex-Google employee, Charlie, and has the same characteristics as Bitcoin, however, this is lighter and faster.
Litecoin operates based on the peer-to-peer currency which was released under the MIT/X11 license. Closer to reality, litecoin is like a duplicate of bitcoin, they have almost the same characteristics.
As a digital currency mimicking Bitcoin, the supply of this coin is capped at 84 Million
Regardless of this coin has been in existence for over a decade, many still tag it as one of the most undervalued cryptocurrencies in the world. In a situation where Bitcoin is being referred to as gold, in the crypto game, bitcoin is being referred to as silver.
However, litecoin continues to enjoy the benefit of investors investing in the coin, and also enjoys the smooth partnership they have with Bitcoin.
Furthermore, bitcoin is easier to operate, when being compared with Bitcoin, and cheaper.
Many see litecoin as Bitcoin lite, and litecoin also generates profit faster than bitcoin, aside from all this, there is a lot of massive good news that comes from litecoin in the year 2020.
Bitcoin Cash ($BCH)
Bitcoin Cash is often referred to as a software upgrade, more like Microsoft word. The motive behind the development of Bitcoin cash is to give room to a larger block size when being compared to Bitcoin, which will give room to more transactions in a single block.
Furthermore, there are a lot of differences between Bitcoin and Bitcoin cash, however, they still have a lot of technical similarities.
Zcash ($ZEC)
This digital currency has been seen as a very good alternative to Bitcoin, according to Zcash, they hold privacy in very high esteem, which means all your transaction details are solidly protected.
Etherium
Bitcoin might maintain its stand as the most popular crypto, in the cryptocurrency field, however, bitcoin is not the most influential cryptocurrency. The award of the most influential digital currency goes to ethereum and there are good reasons for this.
If Bitcoin blockchain is being used for profit, the ethereum blockchain is being used for several purposes.
ethereum was founded in 2014, has remained the second-largest cryptocurrency in the world. ethereum is a smart investment, and a great value for money, besides, it's a good option for those joining cryptocurrency trading newly.
Bitcoin
Believe it or not, love it or not, Bitcoin is the best digital currency in the world. There are a lot of reasons, which make Bitcoin the king of cryptocurrency.
Bitcoin was developed by the pseudonymous Satoshi Nakamoto, in 2011, and also it has continued to gain a good reputation since its inception. It's quite obvious that no cryptocurrency ranking would do without mentioning Bitcoin because Bitcoin now holds %65 of the market cap.
A single Bitcoin now worths $50,000 as there has been a high increase in the value of Bitcoin. Bitcoin is predicted to hit $100,000 before the end of 2021, this prediction was being made by the founder of skybridge capital, Anthony Scaramucci.
Ready to invest in Cryptocurrency?
Now that you've had deep insight into what cryptocurrency is all about, are you ready to invest in cryptocurrency? If you have decided on which cryptocurrency is worth your investment, here are a few practical steps to get you started.
Choose a Crypto Exchange
Before you will be allowed to trade any cryptocurrency, you will have to choose a crypto exchange, considering this, there are a lot of platforms you can trade your cryptocurrency.
One of the trusted platforms, you can buy and sell your cryptocurrency, is snappy exchange.
Picking a crypto Wallet
You need a crypto Wallet for your cryptocurrency wallet, just like Fiat currency, but in this case, you will need an electronic wallet. However, a crypto wallet does not store your coins, however, a typical example of a bank account to keep track of your transaction, and also, your private and public keys.
Now, it's the private you will make use of, to transfer coins, without the private key, you won't be able to make transactions. Be sure enough to store the private keys, in a safe place that can easily be retrieved at times needed, otherwise, you may join the league of other billionaires who can't access their coins anymore.
Your public key can be shared with people just as the name implies. It's what you will share with people that want to make a transfer to your cryptocurrency wallet.
And when it comes to a cryptocurrency exchange, there are lots of available, such as hardware, desktop, online, mobile, etc. And you will have to choose the best, among the available options that will be convenient for you.
Research, Research, Research
Have you been reading this article right from the start? Take all your time to choose the best coin to trade. How far you will go as a crypto trader, is determined by the extent of research you can make. This is why it's recommended to trade your cryptocurrency on Snappy Exchange, to ensure years of profitable and purposeful trading.
Understand ideas and concepts, contrast and compare websites and articles before you start trading.
And also, it's not the only cryptocurrency, you can trade, that can enhance your financial status.
People also trade gift cards for a profit, and a simple and fast way to trade your gift cards is via snappy Exchange.
Reasons Why You Should Trade Your Cryptocurrency On Snappy Exchange.
Having learned all this about cryptocurrency, you may wonder why you should trade your gift cards on snappy exchange.
You are advised not to buy or sell gift cards, to anyhow person, or anyhow websites, as there are a lot of scams in this game.
There are a lot of reasons why you should trade your Cryptocurrency on a snappy exchange.
You trade at the best rate. You get to buy Bitcoin at the rate of #505, and if you have Bitcoin to sell, you can sell at the rate of #475.
Also, you get to buy your Ethereum at the rate of #515, and if you have Ethereum to sell, you can sell at the rate of #470.
The below are rates you can trade other coins on the snappy exchange.
Deriv/Binary USD
Sell: #470 | Buy: #500
Perfect Money
Sell: #450 | Buy: #500
Tron
Sell: #450 | Buy: #500
Your Transaction is instant: When you buy or sell on a snappy exchange, the transaction will be implemented immediately; you do not need to wait for hours.
You can trade from any nationalities. You get paid immediately to your account. Be it Paypal, Payoneer, bank transfer, etc.
How To Trade Your Gift Cards On Snappy Exchange
There are numerous available options where you can trade your gift cards, however, there are more scams than legit websites out there, which are into trading of gift cards.
Don't be a victim of scams, trade your gift card on Snappy exchange now.
Gift cards are safer than cash because they are a form of prepaid cash that can be loaded with cash.
Why you should trade on Snappy Exchange
You are advised to trade your gift cards on Snappy Exchange, due for the following reasons.
You get instant payment
You get the best rates
The site is reliable.
There is no need for a middle man, you start trading directly
How can I trade my gift cards on the snappy exchange?
To trade your gift cards, you only need to register, in these easy steps and start trading immediately.
Register on the platform, with your details.
Verify your email through the link you received.
Start trading your gift cards for cash. It's as simple as that.
About Snappy Exchange
Snappy Exchange is a trusted site and your sure plugin for Bitcoin and gift card trading. In addition to this, you can also buy your recharge card and data of all types of networks on the platform.
There are lots of available programs, which you stand to benefit, if you register on the site, such as a referral program, getting the best rate, when you trade with them, instant funding, secure payment, 24hrs support on either their WhatsApp or website.
Aside from trading on their platform, you can earn from snappy exchange referral program, all you have to do is to refer people (friends, family, classmate, etc) to perform a transaction on the website, and you will earn a commission for doing so, if you are a strong social media presence, you can make use of this, to send visitors to the website, and you get paid in return, the more people that makes a transaction via your referral link, the more money for you.
What Makes Snappy Exchange a Trusted Platform
Snappy Exchange is a trusted platform, to trade your Bitcoin and gift cards, because they can be found on big and reputable websites, such as.
Frequently asked questions
How do I place an order on the Snappy Exchange
To place an order, kindly login, to your account, click on the order icon, fill the form that comes after it and follow the instructions duly.
Once you have placed an order, either to buy recharge cards, buy cryptocurrency, or trade gift cards, your transaction will be approved within minutes.
What's the proof that I have successfully placed an order on snappy Exchange?
You will be curious to know, how you will be notified once you have successfully placed, will you be notified by mail or by SMS?
Once you have placed an order you will be notified via your Gmail and phone number, that your order has been placed successfully.
How Can I Get Verified On Snappy Exchange?
To get verified, you need to first sign up, after you must have signed up after you have signed up, you will be able to log in. On the login page, click on the verified icon. Submit the required details to get your account verified.
How Can I Buy Airtime and Data On Snappy Exchange
It's not only cryptocurrency and gift cards you can trade on the platform, as is mentioned earlier, but you can also as well make a purchase of your airtime and data on the platform with your snappy exchange wallet.
All you have to do is to log in to your account, click on buy airtime, after you have selected the amount of airtime and data, you want to purchase, you can then make payment for it, from your wallet.
Conclusion
Snappy exchange is a sure plug, for cryptocurrency and gift card trading, trade your cryptocurrency, at the best rate you may never get on any platform, instant payment is guaranteed for all your transactions. Start trading now.
How To Accept Crypto As A Business In Nigeria
How To Make Money With Binance in 2023
How Nigerians are Making Money From the Crypto