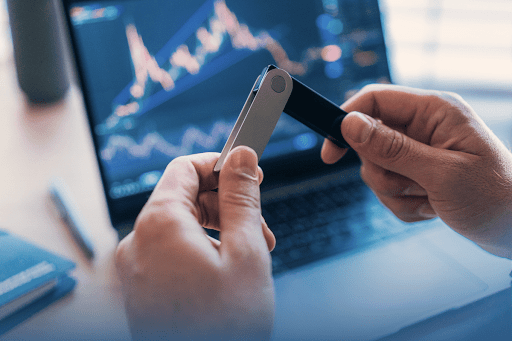 Cryptocurrencies have gained immense popularity in recent years, and as the adoption of digital assets continues to grow, the importance of securing and managing them becomes paramount. Crypto wallets play a vital role in this process, providing users with a means to store, access, and transact with their cryptocurrencies. With a range of wallet options available, each offering different features and security measures, it's essential to understand the various types of crypto wallets.
In this post, we will explore the different types of crypto wallets and discuss their pros and cons, helping users make informed decisions about which wallet suits their needs.
1. Hardware Wallets
Hardware wallets are physical devices specifically designed to store and secure cryptocurrencies. They offer an extra layer of security by keeping the private keys offline, away from potentially vulnerable environments like computers or smartphones. Here are the pros and cons of hardware wallets:
Pros:
1. Enhanced Security
Hardware wallets are considered one of the most secure options available. The private keys are stored in a secure chip within the device and are never exposed to the internet or vulnerable software. This significantly reduces the risk of unauthorized access or hacking attempts.
2. Offline Storage
The fact that hardware wallets keep the private keys offline is a major advantage. This makes them immune to most online threats, such as malware, phishing attacks, or keyloggers. Even if the device is connected to an infected computer, the private keys remain secure within the hardware wallet.
3. User-Friendly
Hardware wallets often come with intuitive interfaces and built-in screens that make it easy for users to manage their cryptocurrencies. They typically provide buttons or touchscreens to navigate through menus and confirm transactions, ensuring a user-friendly experience.
4. Multi-Currency Support
Many hardware wallets support multiple cryptocurrencies, allowing users to manage different digital assets within a single device. This versatility makes them suitable for users with diverse cryptocurrency portfolios.
5. Backup and Recovery
Hardware wallets usually provide a backup and recovery mechanism to protect against device loss or damage. They generate a recovery seed that can be used to restore access to the funds in case the device is lost, stolen, or malfunctions.
Cons:
1. Cost
Hardware wallets are generally not free, and the cost can vary depending on the brand and model. While the price can be considered a disadvantage, it is an investment for the enhanced security they provide.
2. Physical Loss or Damage
Since hardware wallets are physical devices, there is a risk of loss or damage. If a hardware wallet is lost without a proper backup of the recovery seed, access to the stored cryptocurrencies may be permanently lost.
3. Transaction Convenience
Performing transactions with a hardware wallet requires connecting it to a computer or mobile device. This can be less convenient compared to software wallets that offer immediate access without the need for additional hardware.
4. Limited Accessibility
In situations where a user needs immediate access to their cryptocurrencies but doesn't have their hardware wallet with them, they won't be able to transact until the device is available. This limited accessibility may not be suitable for frequent or on-the-go transactions.
5. Potential Supply Chain Attacks
There have been rare instances where malicious actors tampered with hardware wallets during the manufacturing process, compromising the security of the device. However, reputable hardware wallet manufacturers implement measures to mitigate this risk.
2. Software Wallets
Software wallets, also known as digital wallets, are applications or programs that are installed on computers, smartphones, or tablets to store and manage cryptocurrencies. They offer convenient access to digital assets and provide various features for transacting, monitoring balances, and interacting with blockchain networks. Here are some key aspects, pros, and cons of software wallets:
1. Accessibility and Convenience
One of the primary advantages of software wallets is their accessibility and convenience. They can be easily downloaded and installed on devices, allowing users to carry their crypto wallets wherever they go. Software wallets often have user-friendly interfaces and offer intuitive features that make it easy to send, receive, and manage cryptocurrencies.
2. Control over Private Keys
Software wallets provide users with direct control over their private keys. Private keys are essential cryptographic codes that grant access to the funds stored in a wallet. With software wallets, users can generate and store their private keys locally on their devices, which increases control and security. However, it's crucial to implement proper security measures, such as strong passwords and device protection, to safeguard the wallet and private keys.
3. Multi-Currency Support
Many software wallets support a wide range of cryptocurrencies, allowing users to manage multiple digital assets within a single application. This feature is beneficial for individuals who hold various cryptocurrencies or regularly engage in trading activities across different blockchain networks.
4. Additional Features and Integrations
Software wallets often offer additional features and integrations that enhance the user experience. These features may include QR code scanning for easy transactions, address book functionality to store frequently used addresses, price tracking, and portfolio management tools. Some software wallets also integrate with decentralized exchanges (DEXs) or allow for direct in-wallet token swaps, enabling users to trade cryptocurrencies without leaving the wallet interface.
5. Vulnerability to Cybersecurity Risks
Software wallets, especially those connected to the internet, can be vulnerable to cybersecurity risks. Malicious actors may attempt to gain unauthorized access to the wallet or exploit vulnerabilities in the software. It's crucial to choose reputable and well-audited wallet providers and keep the software up to date with the latest security patches.
6. Dependency on Devices and Backups
Software wallets rely on the device where they are installed. If the device is lost, stolen, or damaged without proper backups, there is a risk of losing access to the wallet and the stored funds. Users must take precautions such as regularly backing up their wallet data, storing backups securely and keeping the device protected from physical and digital threats.
7. Potential for User Error:
Software wallets require users to be responsible for their own security practices. There is a risk of user error, such as sharing private keys unintentionally, falling for phishing attempts, or downloading malicious software. It's crucial to practice good security habits, such as verifying the authenticity of wallet applications, avoiding suspicious links, and being cautious when sharing sensitive information.
3. Desktop Wallets
Desktop wallets are software applications installed on a computer or laptop. They provide users with complete control over their private keys and offer a range of features. Here are the pros and cons of desktop wallets:
Pros
Security: Desktop wallets are generally considered more secure than online wallets as private keys are stored locally on the user's device. This reduces the risk of online attacks or server breaches.
Full Control: Users have direct control over their funds and private keys, providing a higher level of autonomy.
Multiple Cryptocurrencies: Many desktop wallets support multiple cryptocurrencies, allowing users to manage different digital assets from a single interface.
Backup Options: Desktop wallets often provide options for creating backups, such as encrypted backups or mnemonic phrases, which can be used to recover funds in case of device loss or failure.
Enhanced Privacy: Desktop wallets can offer enhanced privacy features, such as the ability to connect to your own full node, which can improve transaction privacy and network security.
Cons
Device Dependency: Desktop wallets are tied to a specific device. If the device is lost, damaged, or compromised, access to the wallet and funds may be lost.
Potential Malware Risks: If the desktop device is infected with malware or keyloggers, there is a risk of compromising the security of the wallet and the private keys.
Lack of Portability: Desktop wallets are less portable compared to mobile wallets, as they require the user to carry their computer or laptop to access their funds.
Technical Knowledge: Some desktop wallets may require a certain level of technical knowledge to set up and use effectively, which may pose a challenge for beginners.
4. Mobile Wallets
Mobile wallets are applications designed for smartphones and tablets. They offer convenience, ease of use, and accessibility for users on the go. Here are the pros and cons of mobile wallets:
Pros:
Convenience and Accessibility: Mobile wallets allow users to access their funds anytime, anywhere, as long as they have their mobile device and an internet connection.
User-Friendly Interface: Mobile wallets often provide intuitive and user-friendly interfaces, making them suitable for both beginners and experienced users.
QR Code Support: Mobile wallets can easily scan QR codes for quick and seamless transactions, simplifying the process of sending and receiving cryptocurrencies.
Portability: Mobile wallets are highly portable, allowing users to manage their funds on the move and make transactions on the spot.
Cons:
Security Risks: Mobile devices are more susceptible to malware, viruses, and physical theft, increasing the risk of wallet compromise. Users should take precautions to secure their devices, such as using strong passwords and enabling additional security features.
Limited Screen Size: Mobile wallets have limited screen real estate, which can make it challenging to display extensive transaction details or manage complex wallet settings.
Dependency on Third-Party Providers: Some mobile wallets rely on third-party servers to store private keys, which introduces an element of trust in the service provider. Users should research and choose wallets from reputable sources to mitigate this risk.
Battery and Connectivity: Mobile wallets require a working battery and an internet connection to function properly. A dead battery or lack of internet access can hinder wallet accessibility.
5. Online Wallets
Online wallets, also known as web wallets or cloud wallets, are cryptocurrency wallets that are hosted on remote servers and accessed through a web browser or dedicated application. Here are the pros and cons of online wallets:
Pros
1. Convenience and Accessibility
Online wallets provide easy accessibility from any device with an internet connection. Users can manage their cryptocurrencies and initiate transactions without the need for specialized software or hardware.
User-Friendly Interfaces: Online wallets often have intuitive interfaces designed for user-friendly interactions, making them suitable for beginners or users who prefer a simple and streamlined experience.
2. Backup and Recovery Services
Many online wallet providers offer backup and recovery options, which can be helpful in case of lost passwords or devices. These services enable users to regain access to their funds and restore their wallet using the provided recovery mechanisms.
3. Additional Features
Online wallets may offer additional features such as integrated exchanges, portfolio trackers, and transaction history, providing users with a comprehensive platform for managing their cryptocurrencies.
Cons
1. Security Risks
Online wallets come with inherent security risks. Since the private keys are stored on remote servers, users must trust the wallet provider with the custody of their keys. If the provider's security measures are compromised, users' funds could be at risk of theft.
2. Dependency on Third-Party Services
Users relying on online wallets are dependent on the availability and reliability of the wallet provider's services. Any downtime, technical issues, or even the closure of the service could temporarily or permanently restrict access to the funds.
3. Vulnerability to Hacks and Phishing Attacks
Online wallets can be targeted by hackers or phishing attacks aimed at stealing login credentials or private keys. Users must remain vigilant and adopt security practices like enabling two-factor authentication (2FA) and ensuring the wallet provider has robust security measures in place.
4. Limited Control
With online wallets, users entrust the control of their private keys to a third party. This lack of direct control means that users may have limited autonomy over their funds and may be subject to the wallet provider's terms and conditions.
6. Paper Wallets
Paper wallets involve generating and storing cryptocurrency private keys on a physical medium, typically in the form of a printed document or written down. Here are the pros and cons of paper wallets:
Pros
1. Enhanced Security
Paper wallets are considered highly secure because they store private keys offline, eliminating the risk of online hacking or malware attacks. They are immune to cyber threats as long as they are kept physically secure.
2. No Dependency on Third Parties
Paper wallets enable users to have complete control over their private keys. There is no reliance on third-party services or online platforms, which can be advantageous for those who prioritize self-custody and privacy.
3. Protection from Digital Risks
As paper wallets are offline, they are not susceptible to digital risks like computer viruses, malware, or hardware failures. This makes them an attractive option for long-term storage or "cold storage" of cryptocurrencies.
Cons
1. Vulnerability to Physical Risks
Paper wallets are subject to physical risks such as damage, loss, theft, or destruction by fire or water. Users must take precautions to store paper wallets in secure and protected locations to prevent unauthorized access or accidental loss.
2. Irreversibility of Mistakes
If a mistake is made while generating or transcribing the private keys onto the paper wallet, it could lead to irreversible loss of funds. Users must carefully follow the instructions and verify the accuracy of the keys to avoid such errors.
3. Inconvenience for Regular Use
Paper wallets are primarily designed for long-term storage rather than frequent transactions. To use the funds stored in a paper wallet, users need to import the private keys into a digital wallet, which can be cumbersome and may expose the keys to potential digital risks during the import process.
4. Lack of Additional Features
Paper wallets are simple storage mechanisms and do not offer additional features like transaction history, integrated exchanges, or portfolio management. Users who require advanced functionalities may find paper wallets limiting in terms of their capabilities.
5. Difficulty in Splitting Funds
If a user wants to spend only a portion of the funds stored in a paper wallet, it can be challenging to split the funds without compromising the security of the remaining balance. This can lead to complexities and additional security risks.
Note that users can enhance the security of paper wallets by laminating them, using tamper-evident envelopes, or even employing techniques like creating multiple copies or using a passphrase for added protection.
Does Snappy Exchange Serve as a Crypto Wallet?
No, Snappy Exchange does not serve as a crypto wallet. It is primarily a medium of exchange that allows users in Ghana, Nigeria, and other parts of West Africa to convert their gift cards and cryptocurrencies into cash. While Snappy Exchange facilitates the trade of cryptocurrencies, it does not provide wallet services for storing or managing digital assets. Users are advised to use dedicated cryptocurrency wallets to store their cryptocurrencies securely.
Conclusion
The choice of wallet type can significantly impact the security, accessibility, and control users have over their digital assets. Whether one opts for hardware wallets, software wallets, online wallets, or paper wallets, each type presents its own set of advantages and disadvantages. Hardware wallets provide top-tier security, while software wallets offer convenience and user-friendly interfaces.
Understanding the strengths and weaknesses of each wallet type allows users to select the most suitable option based on their requirements and risk tolerance. Regardless of the chosen type, it is crucial for users to maintain good security practices and stay vigilant to ensure the safety of their cryptocurrencies in the ever-evolving landscape of digital finance.