Are you looking to invest in cryptocurrency for long-term gains? Cryptocurrency is a rapidly growing asset class, and the potential for returns is significant. 
But investing in cryptocurrency can be tricky and risky, especially if you don't know what you're doing. In this blog post, we'll explore how to invest in cryptocurrency for long-term gains. 
We'll discuss the different types of cryptocurrency investments, the risks involved, and how to manage your portfolio. 
We'll also cover the basics of cryptocurrency trading and provide tips on how to maximize your returns.
Decide What You Want to Invest In
Before investing in cryptocurrency, it's important to decide what type of cryptocurrency you want to invest in.  The most popular form of cryptocurrency is Bitcoin, but there are now hundreds of different cryptocurrencies available. 
You need to consider what your investment goals are and then choose the cryptocurrency that best suits those goals. 
Do you want a short-term investment, or do you want to invest for the long term? You should also consider whether you want to invest in a cryptocurrency with a large market cap, or a smaller one with the potential for higher growth. 
It's also important to think about how much risk you are willing to take on, as some cryptocurrencies are more volatile than others. 
In addition, consider the fees associated with investing in each type of cryptocurrency, as well as the security features of each one. 
Once you have all this information, you can make an informed decision about what type of cryptocurrency you want to invest in.
Do Your Research
Before you jump into investing in cryptocurrency, it's important to do your research. Understand what cryptocurrencies are, how they work, and the different types that are available. 
Once you have a basic understanding of the technology, it's time to look at the different coins and tokens available. Each has its own set of features, benefits, and risks. Look at each individual coin or token and decide which ones are most likely to be profitable over the long term. 
Compare different cryptocurrencies based on their current market capitalization, trading volume, historical trends, and more. Consider using tools such as CoinMarketCap to help you make informed decisions about which coins are worth investing in.
You should also familiarize yourself with the different exchanges available. Exchanges are websites or apps where you can buy, sell, and trade cryptocurrencies. 
Some of the most popular exchanges include Coinbase, Binance, Kraken, and Poloniex. Make sure to do some research to find out which exchange is best for you based on the fees, security measures, and coins that it offers. 
It's also important to stay up-to-date with news about the cryptocurrency market. This will help you identify any potential issues that could impact the value of your investments. 
It's also a good idea to join online communities dedicated to discussing cryptocurrency investment strategies. This way, you can get advice from more experienced investors who understand the complexities of the market.
Choose The Right Cryptocurrency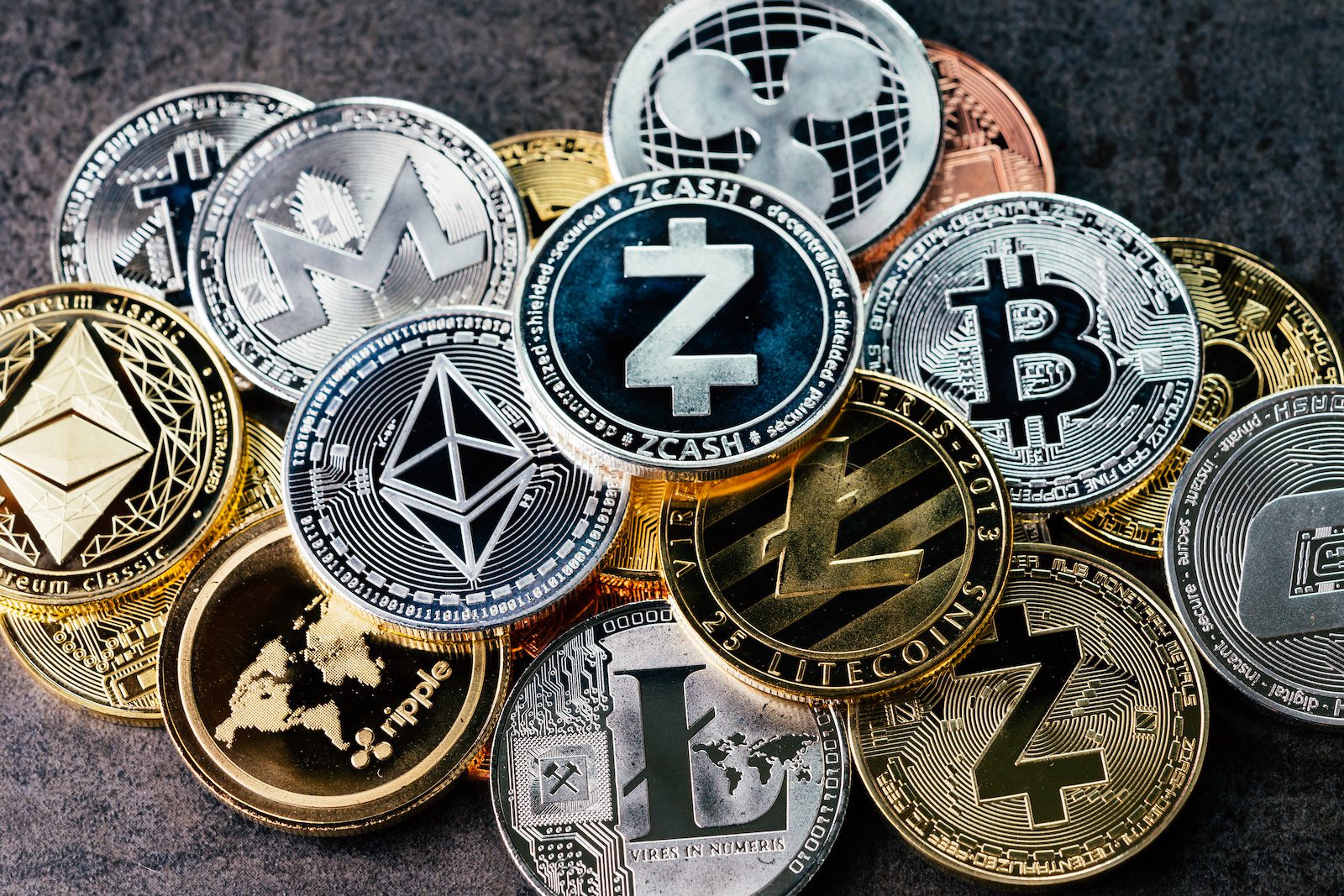 When it comes to investing in cryptocurrency for long-term gains, choosing the right cryptocurrency is key. The crypto market is highly volatile and unpredictable, so it's important to know what you're getting into before investing. 
Here are a few tips to help you choose the right cryptocurrency:
Analyze the Market:

Before investing in any cryptocurrency, it's important to analyze the current market conditions.

Research the trends of each coin and look for patterns that may indicate a potential increase or decrease in value. Also, keep up with news about the coins you're considering and look for any indications of future changes that could affect the coin's value.
Understand the Technology:

Cryptocurrencies are based on complex technology, so it's important to understand how the coin works before investing.

Read up on the coin's whitepaper to get an idea of how the technology works and determine if the coin has the potential for long-term growth.
Consider Adoption Potential:

Investing in a coin that isn't widely adopted won't generate long-term gains.

Research the coin's potential for adoption and determine if it has the potential to become widely used. Check out the coin's community to see if there is active development or if there are businesses that are accepting the coin as payment.
Look at Historical Performance:

To determine if a coin has the potential for long-term growth, take a look at its historical performance.

Analyze the performance over time and identify any major fluctuations or peaks and valleys that could indicate potential growth or decline in value.
Consider Your Risk Tolerance:

Investing in cryptocurrency carries a high degree of risk, so it's important to consider your risk tolerance when choosing which coins to invest in.

If you're comfortable taking on more risk, you can diversify your investments by investing in multiple coins.
However, if you'd prefer to take less risk, focus on coins with a more established track record and lower volatility.
By following these tips, you can make an informed decision about which cryptocurrency to invest in for long-term gains. 
By researching the coin and understanding the technology behind it, you can better understand the potential risks and rewards associated with your investment and make a more educated decision.
Decide On Your Investment Strategy
Investing in cryptocurrency for long-term gains requires a well-thought-out strategy. You need to consider both the potential for appreciation in the value of the asset and the associated risks. 
Do you want to be an active trader or do you want to hold your coins for a longer period of time? Decide what approach is best for you, considering both your risk tolerance and financial goals.
If you choose to be an active trader, you will need to keep a close eye on the market and act quickly when opportunities arise. 
This means that you must be comfortable with short-term volatility and be able to identify good buying and selling points. 
You will also need to have a plan in place for how much money you are willing to invest and when you are willing to pull out of positions.
On the other hand, if you want to invest in cryptocurrency for the long term, you may be better off taking a buy-and-hold approach. 
In this case, it is important to look at the fundamentals of the project rather than just its price movements. Look at the team behind the project, its technology, and any partnerships that could affect its future prospects. 
Once you find a project that you believe has potential for long-term growth, make sure that you do your research and decide on how much money you are willing to commit. 
In addition, make sure to diversify your portfolio across multiple projects to reduce your overall risk.
Read Also: WHAT IS CRYPTOCURRENCY MINING AND HOW DOES IT WORK
Set Up A Cryptocurrency Wallet
Setting up a cryptocurrency wallet is an important step in investing in and holding cryptocurrency. 
A wallet is a software program that allows you to securely store, send, and receive digital assets such as Bitcoin, Ethereum, or other cryptocurrencies.
Here are the general steps to set up a cryptocurrency wallet:
Choose a wallet provider: There are many cryptocurrency wallet providers available, both online and offline. Some popular options include Coinbase, Exodus, MyEtherWallet, and Ledger. Choose a reputable and secure provider that supports the cryptocurrencies you plan to store.
Create an account: Once you've chosen a wallet provider, create an account by providing your email address and setting up a secure password.  Some wallet providers may require additional identity verification steps, such as providing a government-issued ID.
Generate your wallet address: After creating an account, your wallet provider will generate a unique wallet address for you. 
This address is a string of characters that serve as your public key for receiving cryptocurrency.
Secure your wallet: It's important to secure your wallet by enabling two-factor authentication, using a strong password, and keeping your private key safe. 
The private key is a long string of characters that provides access to your wallet and should never be shared with anyone.
Fund your wallet: Once your wallet is set up and secured, you can fund it by sending cryptocurrency from an exchange or another wallet. 
To do so, copy your wallet address and use it as the destination address for the transfer.
Monitor your wallet: After funding your wallet, you can monitor your balance and transactions through your wallet provider's interface. 
It's important to keep track of your wallet activity and to be aware of any fees associated with sending or receiving cryptocurrency.
By following these steps, you can set up a cryptocurrency wallet and securely store your digital assets. 
Remember to choose a reputable wallet provider, secure your wallet with strong passwords and two-factor authentication, and never share your private key with anyone.
Conclusion
In conclusion, monitoring the cryptocurrency market is a crucial step for anyone looking to invest in or trade cryptocurrencies for long-term gains. 
By staying up-to-date on market trends, news, and regulatory developments, investors can make informed investment decisions and manage risks effectively. 
It's essential to use reputable news sources, track market data, set up price alerts, and stay informed about regulations to succeed in the cryptocurrency market.