Amex Gift Card is a prepaid payment card preloaded with a specific quantity of U.S. dollars and is available to people worldwide. American Express cards are issued by the company and processed through the American Express network. Amex Gift Cards are owned by American Express, which issues its cards to individuals, corporate consumers, and small businesses. Every gift card transaction is wholly controlled and managed by American Express. In this article, we will look at how and where to Sell American Express AMEX Gift Cards in Nigeria.
What is Amex Gift Card used for?
You can use an Amex gift card to shop anywhere in U.S, Online and around the world where an American Express Gift Card is accepted as a form of payment. You can use your American Express Gift Card virtually anywhere American Express Cards are accepted within the United States in retail shops or online.
Types of American Express Gift Cards
Prepaid debit cards from American Express
You can freely Cash Reloads American Express Prepaid debit cards at over 45,000 locations and Shop online with your prepaid debit Card virtually anywhere American Express® Cards are accepted. There is no credit check, FREE to register online, FREE Online Bill Pay, and you are protected against fraud.
Credit cards from American Express
These cards are of wide varieties and serve various roles. For example, the American Express Blue Cash Preferred is ideal for high cash-back rates, the American Express Green Card is great for travel, and the American Express Cash Magnet is best for flat-rate cash back.
Charge cards issued by American Express
American Express offers charge cards with monthly credit and card balances you must pay off each month.
How to check Amex Gift Cards Balance
To check your American Express Gift card balance, follow these steps:
Enter the card number and the 4-digit security code, usually located on the front of the Card
Alternatively, you can call Amex customer service to request the balance on this number 1-833-205-8622. 
Where To Sell American Express AMEX Gift Cards in Nigeria
There are many platforms you can sell your Amex Gift card online in Nigeria. Still, you must be careful and use only registered and trusted platforms such as Snappy Exchange for all your gift cards and cryptocurrency trading. Snappy Exchange is Nigeria's most reliable platform to sell your Amex Gift card. With Snappy Exchange, you enjoy a seamless trading experience and mouth-watering rates on your card.
How to sell American Express Gift Card on Snappy Exchange
If you have an Amex gift card you wish to sell or exchange for cash or Bitcoin, Snappy Exchange offers you a seamless platform with cutting-edge technology to sell off your gift cards without the hassle. To sell your Amex gift card on Snappy Exchange, follow these steps.
Visit the Snappy Exchange website or use their free Mobile App to create an account or log in if you are a registered user. 

Once you register and verify your account. The next step is to connect your Amex gift card: Enter your Amex card details to sell your Amex gift card for cash.

Once your card is connected, you must select the amount you want to sell, such as $100 or $300.

Once we receive your trade details, we will immediately send the payment to your account.
We will credit your account within 5-10 minutes of receiving your details. No story. On Snappy Exchange, you can also sell other gift cards such as Vanilla, Google Play, Amazon Gift cards, Apple, and many more.  

How much is a $100 American Express Gift Card
Because of the constant global exchange rate changes, the price of a $100 Amex gift card is not stable. There are no fixed rates for a $100 Amex gift card in Nigeria; the price is always changing, you can check this minute and see a higher price, and in the next minute, it might be a bit lower than what you saw the first time. As of the time of writing this article, the current price of a $100 Amex gift card in Naira is ₦51,000. It might be higher or lower in the minute. You can always use the rates calculator on Snappy Exchange to check the current rate.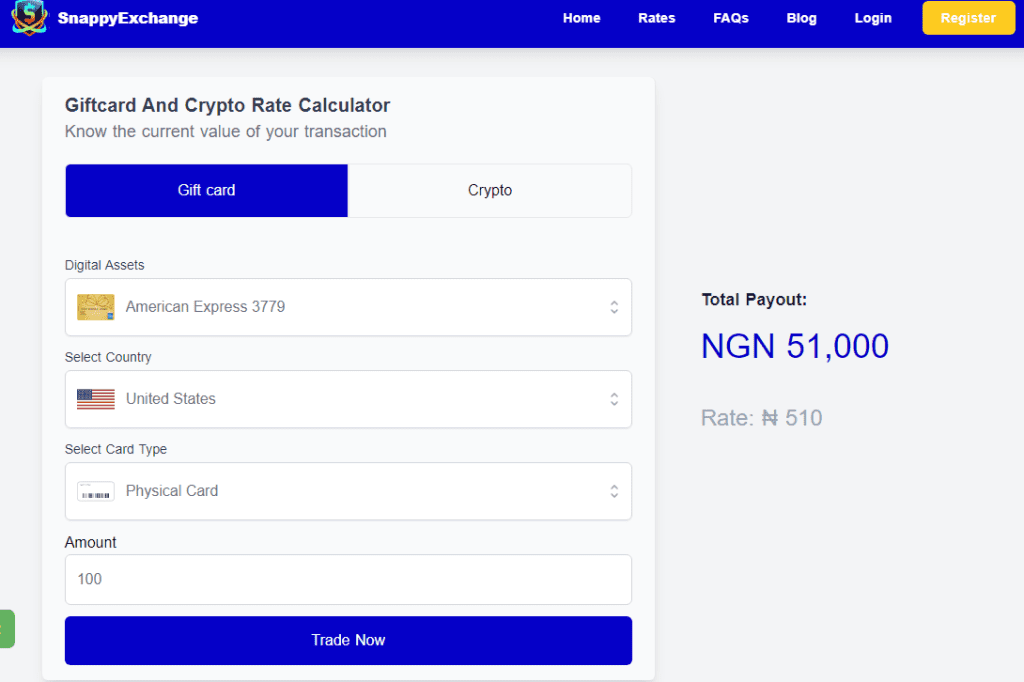 If you are seeking the best Gift Card rates in Nigeria, you can be confident that you will find them on Snappy Exchange. We offer an automated gift card rate calculator that is constantly updated. This functionality is available on the website. Check the "current rates on Snappy Exchange" to stay updated on Gift Card rates.
Can I convert an American Express Gift Card into Bitcoin?
Yes, absolutely! You can convert your Amex gift card to Bitcoin equivalent on Snappy Exchange, just like you would for cash. The process is straightforward. All you need to do is register on Snappy exchange if you are a new user or login if you already have an account.
Enter your card details and the amount you want to convert into Bitcoin, and your bitcoin wallet will be credited immediately. With Snappy Exchange, converting your Amex gift card into bitcoin is easier and takes less than 3 minutes to get done.