It is impossible to use a Sephora gift card in Nigeria for its actual purpose. The gift card is issued by the Sephora beauty store that is based in Paris, France with over two thousand outlets around 34 countries of the world of which Nigeria isn't among.
So, if by any chance you have a Sephora gift card in your possession, the only way you can get value from it is by selling it in exchange for Nigerian naira.
To do this, you have to first know how much the Sephora gift card is worth so that you don't deal with an exchange or vendor that will rip you.
So how much is the value of a Sephora gift card against the Nigerian naira today?
The Value of Sephora gift card in Nigeria today
The price at which a Sephora gift card is sold or bought in Nigeria today is dependent on the current rate of naira to dollar, as well as the rate at which the exchanger you are trading with is willing to offer you for the trade. The volume of the Sephora gift card is also a factor.
For instance, the current price range of a $100 worth Sephora gift card is NGN32, 000 on SnappyExchange which is by far the best rate you can possibly get out there. In other words, the value is depending on the rate offered by your dealer.
If you want the best rate for trading your Sephora gift card, it is better to consider dealing with a direct loader or exchange platforms like SnappyExchange because the website offers you a rate calculator so that you can easily know the naira value of the Sephora gift card no matter the USD value.
If you pay attention, you will realize that the issue of finding how much your Sephora gift card cost is not static because the volume of the card is another determining factor. Hence, you should be more concerned with how to check the Sephora gift card rate at any time so that whenever the price changes due to market performance, you can always get the latest prices.
How To Check Your Sephora Gift Card Rate 
Instead of always going online and looking for the current rate of Sephora Gift card against the Nigerian Naira, it is better to identify an exchange platform that has an accurate inbuilt rate calculator such as SnappyExchange where you can always get the exact naira value of the Sephora card you have at that particular market climate (the prices are subject to change)
It is also a good thing that SnappyExchange has one of the best rates out there, so you can rest assured that what you get from the rate calculator is a competitive value exchange rate.
Now, here is how you go about checking your Sephora Gift card rate against the Nigerian Naira no matter the USD balance on the gift card:
STEP 1
The first thing is to open your browser and visit the official website of SnappyExchnage. The rate calculator is also available in their mobile application which can be downloaded from both Apple Store and Playstore.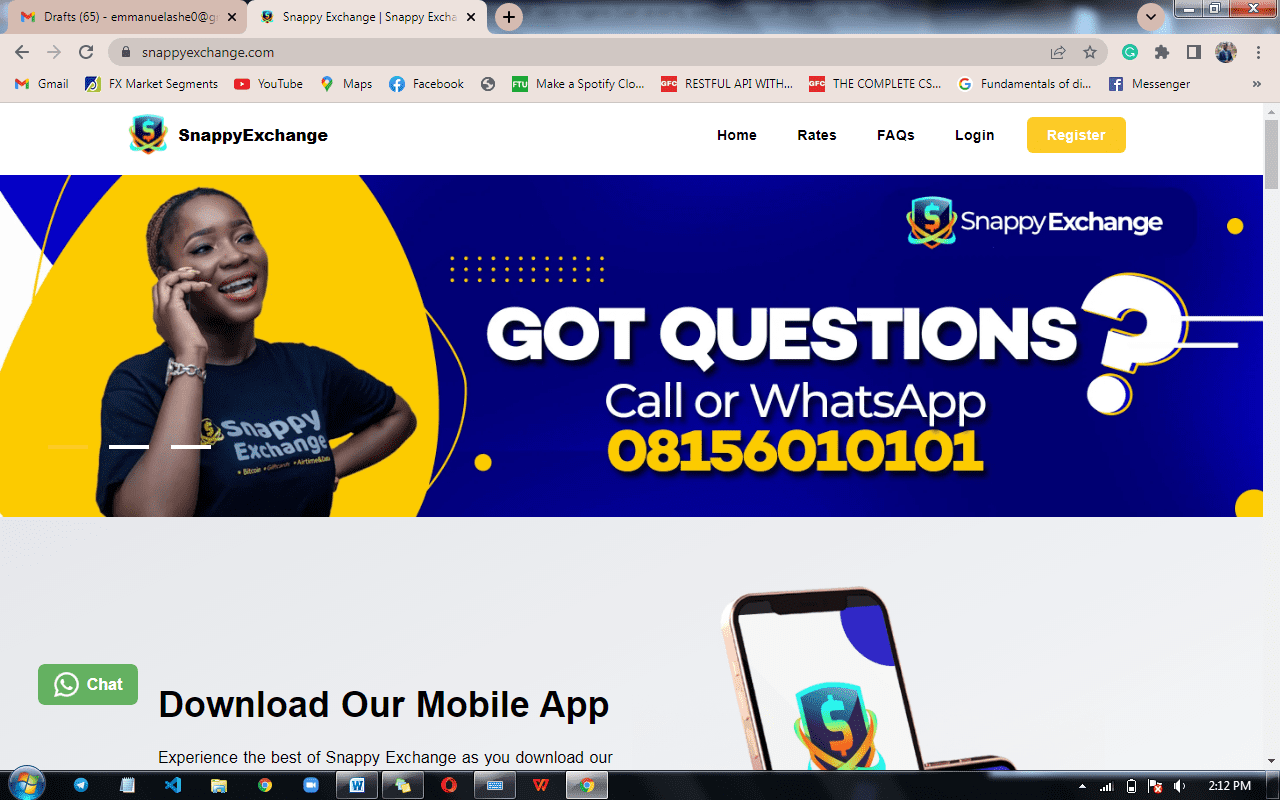 But for the purpose of this guide, we will be using the website interface since it won't take a second to get on there at this moment.
STEP 2
On the homepage, click on the "rates' options that are found on the top right corner of the screen as seen in the image below.
If you are not using the desktop, the interface of the site will be quite differently such that you will need to first click on the three-dash icon at the top right corner of your phone screen before seeing the "rates" option.
STEP 3
You will see the option to select the digital assets of which you want to check its rate (in this case you select Sephora as your option as illustrated in the image below)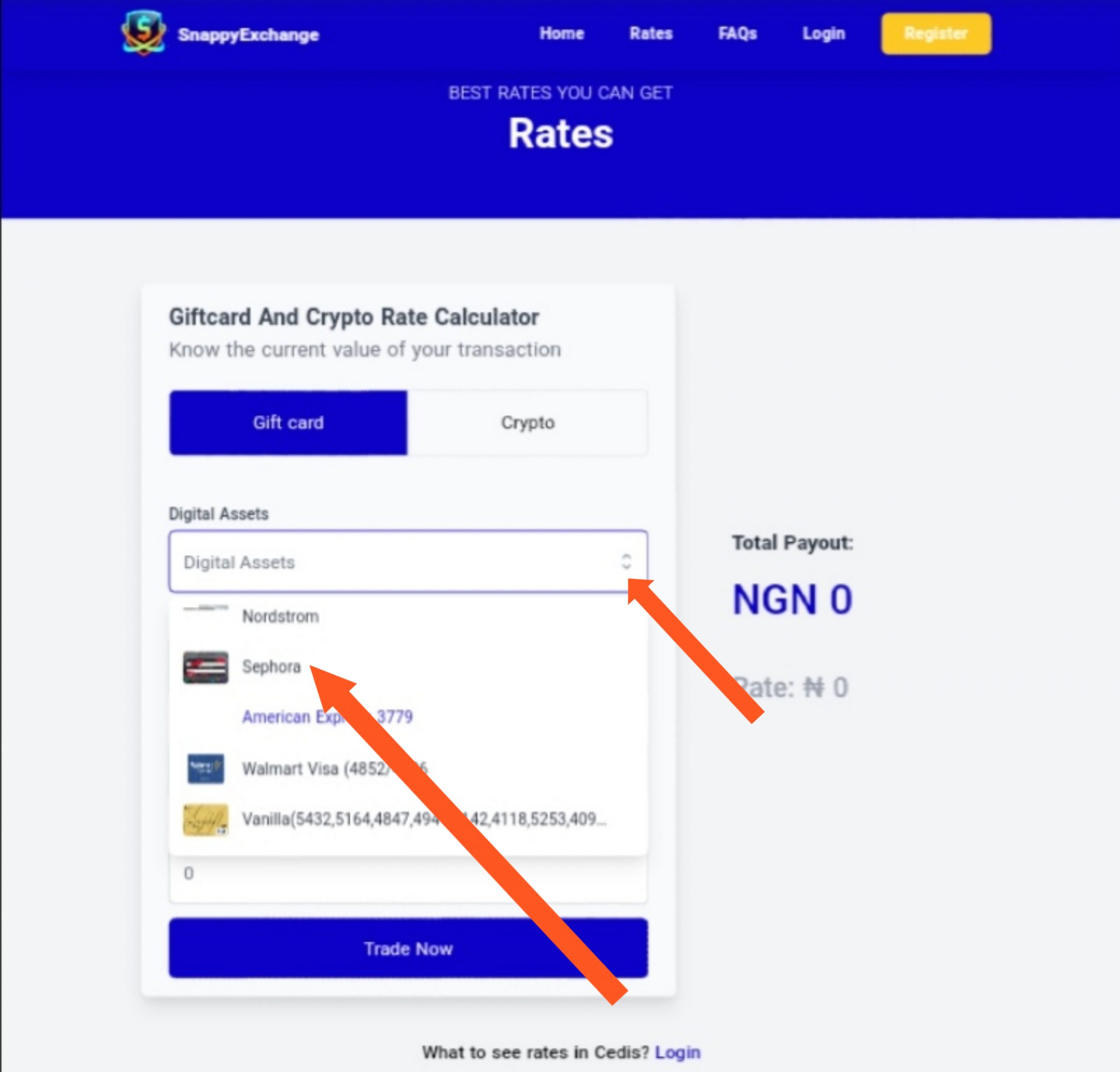 After filling in the Gift card Category, you enter the country and then the card type (Physical card).
STEP 4
The last thing is to enter the amount of the Sephora card for which you want to check its rate against the Naira value. For instance, if the Sephora gift card balance is $100, you put that as the Amount along with the other options needed to be filled.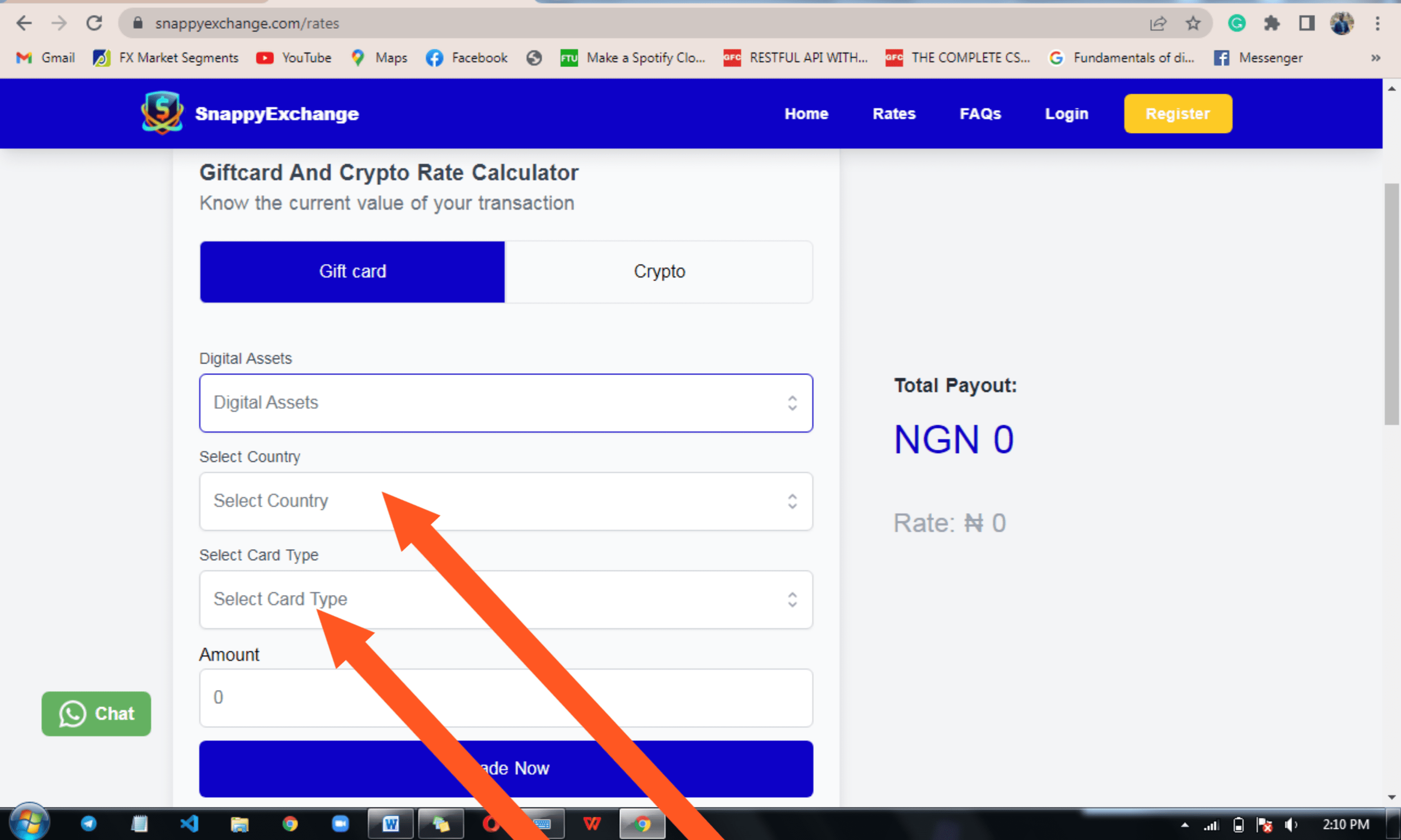 STEP 5
As you can see in the image below, once you input the amount of the Sephora gift card, the naira value for which it is exchanged on SnappyExchange is displayed on the other side of the screen. In this case, we use a $100 Sephora Gift card.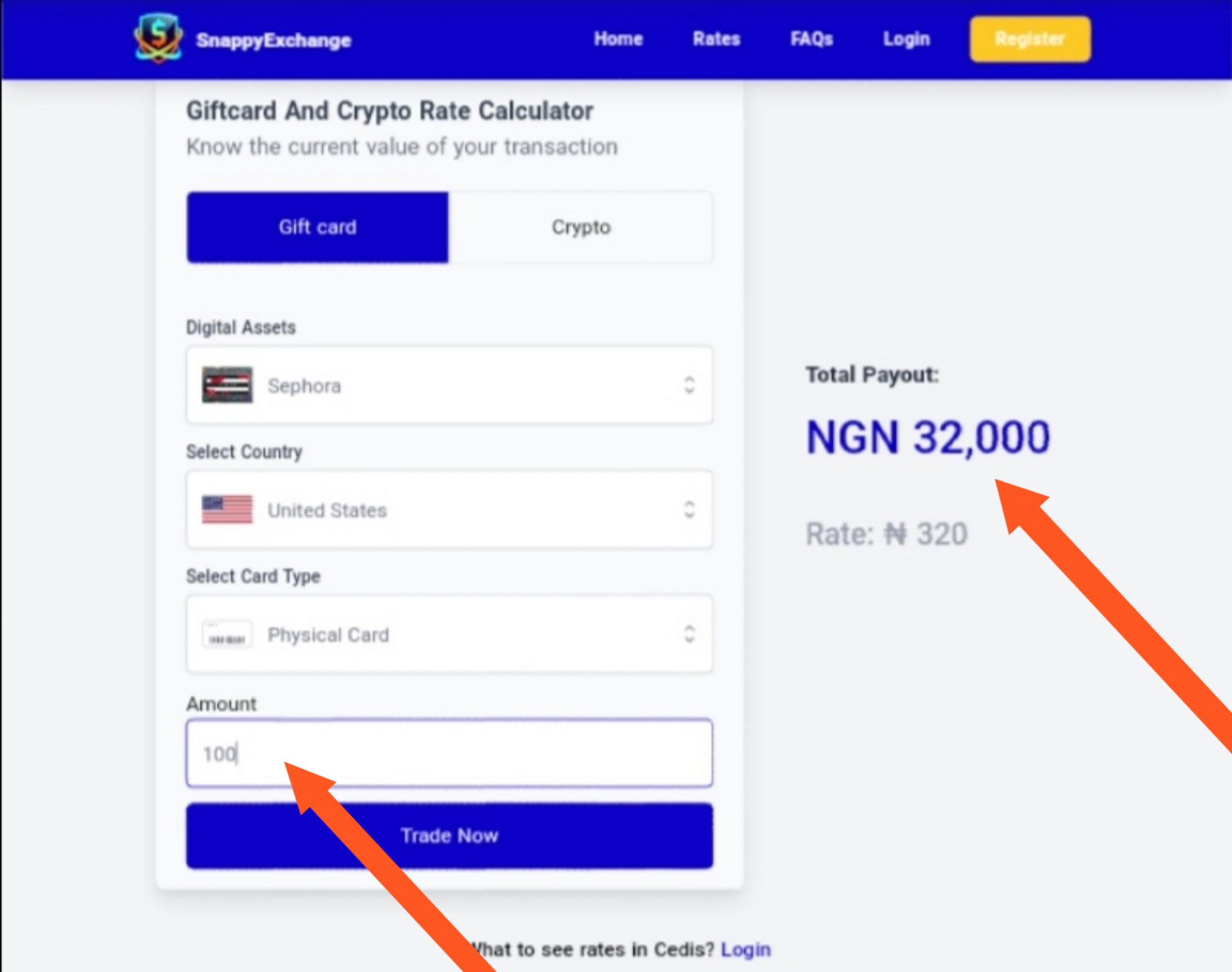 STEP 6
Now that you know the rate, the next thing would be to hit the 'Trade Now' Button to either exchange the card for cash to use it to purchase another gift card that will be utilized for online payment.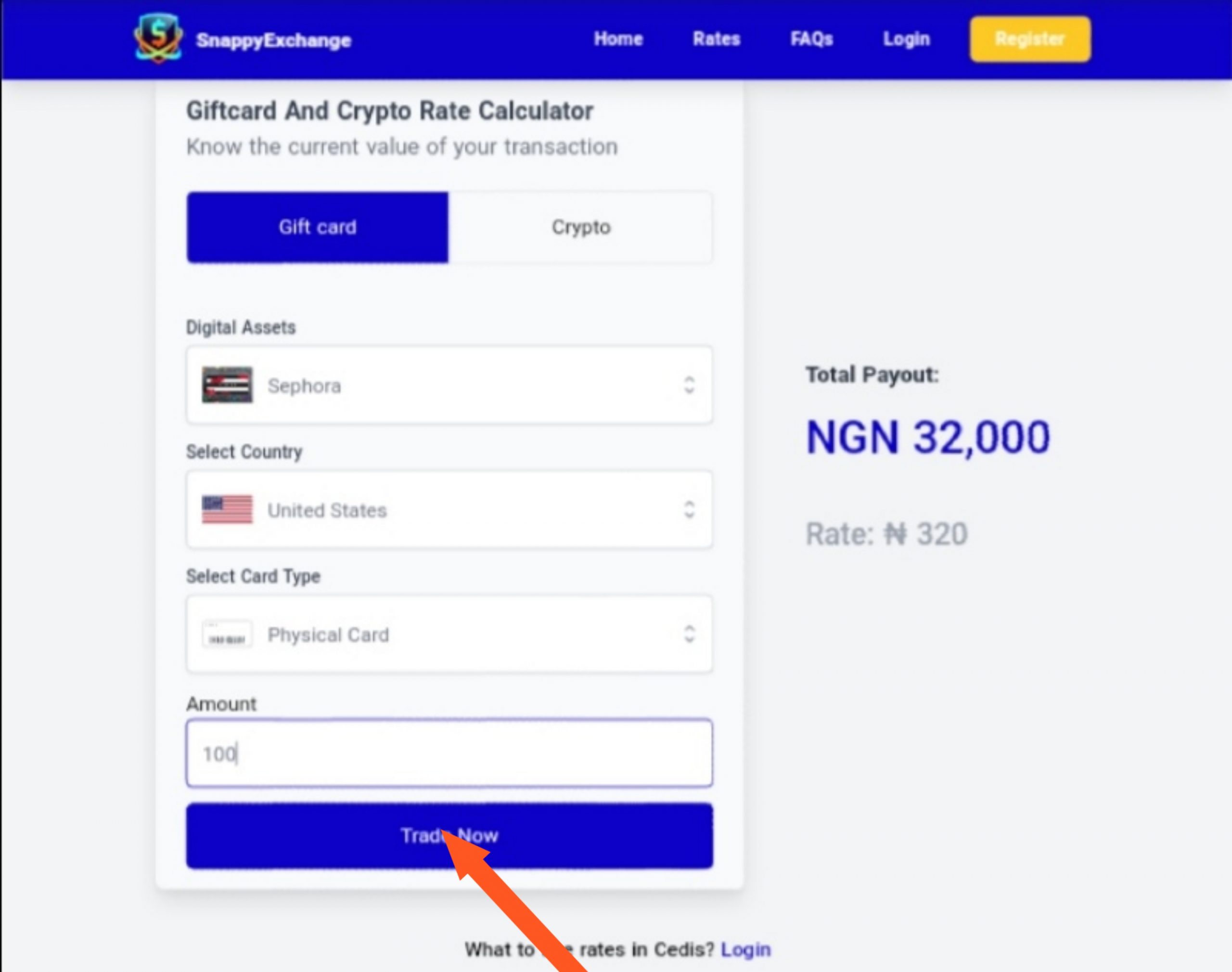 Note: It is important to check your Sephora gift card balance before inputting the amount you want to trade so that there won't be problems in validating the gift card during the transaction process.
Also, keep in mind that you will need to sign up with SnappyExchange before you can trade the Sephora Gift card. But no to worry, this doesn't take more than 5 minutes both on web and mobile app platforms.
What are Sephora Gift Cards Used For?
Just like every other type of gift card, you can use a Sephora gift card for three main things in Nigeria which are either as a means of payment, to send as an e-gift to others, or to use as an exchange for money, crypto or other gift cards on an agreed exchange rate.
Let's see what each of these entails:
As a means of payment
Generally, gift cards are issued by the producing company to provide an alternative payment method after goods or services are purchased. In a similar light, Sephora gift cards can be used to make payments for products purchased from Sephora stores.
However, there are no physical Sephora stores in Nigeria. So you can only use the card to make payments after shopping from their online stores. Keep in mind that shipping is another factor to contend with if you are using your Sephora card for this purpose in Nigeria.
As an e-Gift
Gift cards can be sent as gifts to family, friends, and loved ones. You can send the Sephora gift to anyone who fancies shopping products sold by the Sephora brand. This card is a great gift idea for women because it allows them to buy what they want from the Sephora physical and online store and then you'd be footing the bill with your Sephora card.
As a means of Exchange for cash, crypto, or other cards
An alternative way to use Sephora cards in Nigeria is by exchanging them for cash, cryptocurrencies, or even other gift cards like Apple, Netflix, and Google, among others at their equivalent.
If you do not have any reason to redeem your gift cards at Sephora stores or send them to others as gifts, then you can sell them for cash or cryptocurrency on SnappyExchange.
How To Sell a Sephora Gift Card in Nigeria (and Where) 
If you have sold any type of gift card in Nigeria for money in the past, then the process involved in selling Sephora gift cards won't be strange to you. As mentioned earlier, Sephora cards will only be useful in Nigeria if you exchange them for cash.
So if you want to sell beauty product cards in Nigeria, you need to first identify a reliable exchange platform that facilitates such transactions. There is no doubt that SnappyExchange is one of the best you can consider out there, especially if you prioritize fast payment, security, transparency, and sweet rate.
STEP 1
You need to first create an account on SnappyExchnage either on the web or mobile app version and the registration process takes less than 5 minutes maximum.
STEP 2
Once your account is fully set up, navigate to the "Start trade" option on your homepage dashboard.
STEP 3
You will be directed to the page where you can select the type of transaction you want to execute. In this case, you want to opt for the "sell gift cards' option after which you will be required to fill in the required details for the transaction.
STEP 4
The good thing about using SnappyExchange is that the process is self-explanatory and all the prompts are easy to follow.
The site also pays you the exchange value for your Sephora gift card in Naira into your preferred bank account, Bitcoin and USDT.
In Summary
How much Sephora gift card in Nigeria depends on a few factors which are: the USD value of how much was preloaded on the Sephora gift card, the nature of the card, the naira to dollar exchange rates as well as the rate offered by the dealer or exchange platform.
For these reasons, you can expect the prices of Sephora gift cards to rise and fall. In other words, to get an accurate price, it is best to use the Rates Calculator on SnappyExchange anytime you want to know the value of your Sephora gift cards against the Nigerian naira or any other gift card.